Wiki Targeted (Entertainment)
Play Sound
Blue Balls was the team led by Ian Hecox during the original Smosh Winter Games.
Members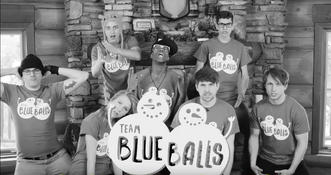 Team color: Blue
Smosh Winter Games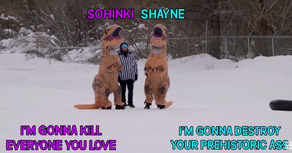 Roster: Courtney, Lasercorn, Jovenshire and Shayne
Challenge/Game: T-Rex Race
Outcome: Loss (1:22)

Round 1: Keith vs Courtney. 

Round 2: Mari vs Lasercorn. 

Round 3: Olivia vs Jovenshire. 

Round 4: Sohinki vs Shayne. 
Roster: Courtney, Flitz, Lasercorn, Joven*, Shayne and Noah
Challenge/Game: Just Dance 2015
Outcome: Loss

Round 1: Wes vs Courtney (Disney's Frozen - Let it Go)

Round 2: Keith vs Flitz (Run-DMC & Aerosmith - Walk This Way)

Round 3: Olivia vs Lasercorn (Calvin Harris - Summer)

Round 4: Joe Bereta vs Jovenshire (Enrique Iglesias Ft. Descemer Bueno - Bailando)

Round 5: Sohinki vs Shayne (The Bench Men - Don't Worry Be Happy)

Round 6: Mari vs Noah (Lady Gaga - Bad Romance)
Roster: Noah, Lasercorn, Joven, Shayne, Courtney and Flitz
Challenge/Game: Human Snow Bowling
Outcome: WIN (39-35)

​Noah - 5 points
Lasercorn - 1 point
Jovenshire - 9 points
Shayne - 8 points
Courtney - 9 points
Flitz - 7 points
TOTAL: 39
Roster: Lasercorn, Flitz, Noah and Shayne
Challenge/Game: Gift Wrapping Race
Outcome: WIN (15-14)

​Lasercorn (SLAYED THE RAPPING) vs Sohinki - 3 gifts
Flitz vs Olivia - 2 gifts
Noah vs Keith - 6 gifts
Shayne vs Mari - 4 gifts
TOTAL: 15
Netflix and Chill
Roster: Courtney, Joven, Shayne, and Lasercorn
Challenge/Game: Netflix And Chill
Outcome: WIN (2-1)
Exploding Kittens Mousetrap Gauntlet
Roster: 

Joven, Noah, Flitz and Courtney

Challenge/Game: Exploding Kittens
Outcome: Loss

Second out: Noah
Third out: Courtney
Fourth out: Joven
Sixth out: Flitz
Last Ep
Gallery