Boba Fett Returns - The Loop
Play Sound
Behind The Scenes (BTS) with Smosh was a side series on the Smosh channel. It featured Behind The Scenes footage, bloopers, deleted/extended/alternative scenes and more. It started with My Mutant Rash and was first posted on YouTube for Smosh vs Zombies!, being posted on Sundays. It was updated in 2017 and changed to This Week in Smosh which does behind the scenes footage for multiple videos instead of just a single video. On April 28, 2017 a new animation and music was debuted for the BTS.
All Behind The Scenes Videos (On YouTube)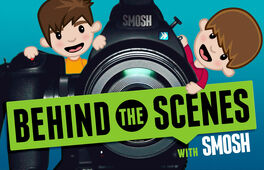 OVERACTING LESSONS

DAT PUPPET FACE

HAIR HATE COMMENTS

FUN WITH CONDOMS

Sexy Time w/ Smosh

POLICE BRUTALITY

ANTHONY BREAKS IANS NOSE!

KUNG FU MASTER

WHAT HAPPENS WHEN YOU PUBERTY
FREE POKEMON HUGS
VIAGRA OVERDOSE
WE NEED A KITTY POOL
MAGIC MUSHROOMS + DONKEY KONG
BAD YOUTUBER IMPRESSIONS
ADVENTURE TIME HIPSTERS
NERD WARS
GRAND THEFT MARIO KART
THE PROPER WAY TO PEE
DOUCHE FASHION + MORE VINES
WHO WILL WIN?
SLOW MO BIKINI GIRL
BALLSACK ACROBATICS
SUPERFAB + FATBOOTH APP
HOT GIRLS w/ CHEST HAIR
KILLER DEMON DOLL
COSPLAY FAIL
GHOST HUNTING
CONCETRATED KOOL-AID CHALLENGE
DICK JOKE
HOT ALIEN GIRL SPITS ON ME
BIEBER VS BIEBER
SHERLOCK FAIL
WHITE KID JERKY
FREE PROCTOLOGY EXAMS
SPIDERMAN TRIPS BALLS
SIAMESE VIRGINS
OLD AGE APP
HUMAN LIGHTBULB
BRONY BALLS
Bieber Attacked By Sticks
OUR SECRET BED
HOT COWBOY LOVE
I AM GROOT
FUN WITH PHONE S3X
REVENGE OF THE EMO
I WAS AN EVIL KID
ZOMBIE CHEF
HOT OR NOT
SKYRIM VS ZELDA
CHRISTMAS SONG FAIL
WHEN CHRISTMAS TREES ATTACK
EXTREME ASS SLAPPING
FIFTY SHADES OF JIGGLYPUFF
IAN BREAKS ANTHONYS BALLS
D!CK JOKES WITH MOM
RETWEETING IN REAL LIFE
SH!T HOT GIRLS SAY
EMOJI RAP
BIG F**CKING GUN!
WHITE BOYS CANT DANCE
RACIST APPLE EMPLOYEE
MOST AWKWARD KISS EVER
4 GIRLS 1 BUTT
WORST FART EVER.
FIRST SMOSH KISS
NAKED YOGA
WORST SEX EVER
CONFESSIONS OF A TEENAGE BOY
MAGIC BOOBS
GUESS WHO IN REAL LIFE
SEXY STUNTMAN
BATMAN'S SECRET
RACIST GODS
BIG BANG-LITERALLY
WE GET WATERBOARDED!
TOPLESS KARAOKE
HOW TO HIT ON A WOMAN
BTS Every ( Blank ) Ever
SEXY INSTAGRAM FEED.
DEMON GIRL MAKEOUT.