Wiki Targeted (Entertainment)
Play Sound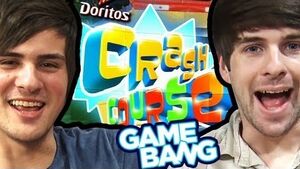 BALLS TO THE FACE is the twenty-sixth installment for the SmoshGames series Smosh Game Bang.
It was uploaded on 22nd March 2013 on both smosh.com and YouTube.
Synopsis
The Smosh Games crew play Doritos' Crash Course.
Punishment
The person with the slowest time out of everyone must perform 20 push-ups, 20 jumping jacks, and 20 squats while wearing the Dress of Shame.
Turn order
Jovenshire
1st course: 1:09
2nd course: 1:27
3rd course: 1:20
Sohinki
1st course: 1:14
2nd course: 1:32
3rd course: 2:10
Anthony
1st course: 1:14
2nd course: 1:32
3rd course: 2:55
Lasercorn
1st course: 1:08
2nd course: 2:13
3rd course: 1:33
Ian
1st course: 1:22
2nd course: 2:45
3rd course: 1:49
Mari
1st course: 1:30
2nd course: 2:30
3rd course: N/A
Results
1st place: Jovenshire (3:56)
2nd place: Lasercorn (4:54)
3rd place: Sohinki (4:56)
4th place: Anthony (5:41)
5th place: Ian (5:56)
Last place: Mari (N/A)
Trivia
This is the first Game Bang in which Jovenshire recieves first place. He was the last one to achieve an individual victory.
This is Mari's 3rd individual loss, it was in this episode that she overtook Ian, Jovenshire and Anthony for most individual losses (all of whom had 2 at the time).
Even if Mari hadn't chickened out on the last course, she would still have had to do the punishment regardless.
This episode is Jovenshire's first individual win, making him the last member of the original 6 Smosh Games member to win an individual Game Bang.

This is Jovenshire's first win in 2013, having not won since WE'VE GOT WORMS! October 26, 2012.