Wiki Targeted (Entertainment)
Play Sound
Amra Moore Ricketts (b. May 31, 1987), also known as FLitz, Flitz, Ra or Nerdsworth, is a YouTube personality, singer, actor and dancer. He was a part of Smosh Games, officially joining the lineup in 2014, but left on January 4, 2018 in order to legally combat accusations of sexual assault by several women on social media, while not wanting to "risk having a negative impact" on Smosh Games (and Smosh as a whole). The accusations were reported on by major online news sites the same day, with FLitz's future with Smosh Games unknown. As of 2020, Smosh has yet to directly address the accusations against Ricketts, though most of the cast have since reunited with him to create outside content.
Smosh Games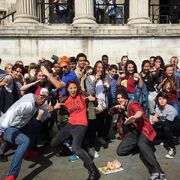 FLitz first appeared on Smosh Games with the rest of the LAN Party crew NODE) in their Video Game Olympix collaboration. He has later became a regular on the channel, appearing most commonly in Grand Theft Smosh, I Have a Raging Bonus, Why We're Single, Smosh Game Bang and Maricraft, while also making occasional appearances in Top 5. He also made an appearance in the 85th, 86th and 95th and most of the recent Game Bangs. He was initiated (along with Wes) as a full member of Smosh Games on October 12, 2014.
He is known to be one of the less chaotic of the group, to the extent that in an episode Maricraft, the usually kill-happy Lasercorn stated that he had no interest in killing Flitz. He is known for his prowess in both fighting games and dance games.  
In Grand Theft Smosh he is known as the "blackup" or "Blackquaman"; and "Homie Attenbrough" in Maricraft.
Similar to Wes, Rickett's addition to the Smosh Games crew was met with favorable reactions from the YouTube community. Many of the comments expressed love towards Ricketts, with many claiming that he is "hilarious," and that he is "a great addition to Smosh Games."
Departure
On January 4, 2018, FLitz released a statement on why he left Smosh Games:
"I wanted to let all of you know that effective immediately, I'm leaving Smosh Games" he said that Thursday, from his Twitter account. "Last week I was accused of some of the worst things imaginable by a group of old friends and former roommate. While I deny all allegations against me, this community, my family at Smosh Games, and the team behind it mean so much to me. I cannot risk this having a negative impact on them."
NewElement6
FLitz would later join the old Smosh Games members: Sohinki, Mari, Lasercorn, WesTheEditor, and Jovenshire in NE6. The members made NE6 during the quarantine of COVID-19 and stream and play there as a group as of April 1st, 2020.
Trivia
FLitz is one of the original in-costume Dope Zebra dancers featured in Rhett & Link's "Dope Zebra" video. The Dope Zebra eventually went viral and was also featured in LMFAO's "Sorry For Party Rockin'" video, which led to FLitz appearing, in costume, several more times with the group during live performances. As revealed in a recent Maricraft video, he was the front of the zebra.
FLitz has a personal channel, TheNerdsworth, which had been inactive for six months, until January 21, 2015, when he uploaded a new music video.
His nickname, FLitz, came from the main character of the Dreamcast game "Cool Cool Toon."
FLitz has to wear an eyepatch from time to time because the vision in his left eye is incredibly blurry, which he describes as being like "opening your eyes underwater," and he needs the eye patch to prevent it from passing to his other eye. He once said that this blurry eye also allows him to see UV light that a normal eye would filter out.
While the origin of Flitz's eye problem is very rarely mentioned, on his personal channel he explained that he has Aphakia, which is a condition where a person does not have a lens on their eye as a result of either surgery or trauma.

On Tobuscus's personal channel, he explained that the cause of Flitz's Aphakia was that while Flitz was wearing glasses, he accidentally smashed one of the glasses lenses by running into a door, which caused the shards to go into his eye. Flitz had to receive surgery on his eye in order to remove the shards, which caused his Aphakia.

FLitz has mentioned in one of the vlogs on his personal channel that he has a love for hats.
It has been implied by Jovenshire that he is easily scared, although FLitz has stated that he does not get "thrilled or scared" by horror films.
In his initial appearances, FLitz was known as "Black Lasercorn."
He has stated that he may legally change his name to FLitz, although as seen in a Smosh Summer Games: Camp episode, Hot Pepper Talent Show, he continues to introduce himself as Amra on occasion. As of 2018, he refers to himself almost solely as Amra.
FLitz was born and raised in Philadelphia.
FLitz edited the Top 5 episodes on Smosh Games, which may explain why he appeared on it so often.
Along with Matt Raub, he was a regular on the podcast Unpopular Kids, which was run by Joven on his personal channel.
His last Game Bang was Our Problems Revealed, which was supposed to be the first half of a two-part episode about You've Got Problems and end in a punishment. Because of the timing of his departure, the second part was never released and the results of the game are unknown.
He is currently seeing a therapist, which he revealed to the public in 2018.
In the aftermath of the allegations, he felt depressed and suicidal. The case will go to federal court.
Flitz revealed in an Instagram post that he lost his mother to murder-suicide at the age of four. His father was also mentioned in the post, but it is unknown if he was involved in the crime.
Gallery
References