Wiki Targeted (Entertainment)
Play Sound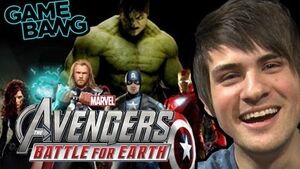 AVENGERS WORKOUT is the twenty-eighth installment for the SmoshGames series Smosh Game Bang.
It was uploaded on April 5, 2013 on both smosh.com and YouTube.
Synopsis
The Smosh Games crew battle in The Avengers: Battle For Earth Kinect game.
Punishment
The ultimate loser has to call gamestop and ask for the non-existing Hulk game while talking like the Hulk.
Characters used
Anthony - Black Widow and Scarlet Witch
Ian - Wolverine and Captain America
Jovenshire - Magneto and The Hulk
Lasercorn - Hawkeye and The Mighty Thor
Mari - Wolverine and The Mighty Thor
Sohinki - Iron Man and Hawkeye
Battles
Round 1
Anthony vs. Sohinki
Ian vs. Mari
Jovenshire vs. Sohinki
Round 2
Lasercorn vs. Anthony
Mari vs. Sohinki
Anthony vs. Jovenshire
Round 3
Ian vs. Lasercorn
Anthony vs. Mari
Jovenshire vs. Lasercorn
Round 4
Sohinki vs. Ian
Lasercorn vs. Mari
Ian vs. Jovenshire
Round 5
Anthony vs. Ian
Jovenshire vs. Mari
Sohinki vs. Lasercorn
Results
1. Mari (4W, 1L)
2. Anthony (3W, 2L)
2. Ian (3W, 2L)
4. Lasercorn (2W, 3L)
4. Sohinki (2W, 3L)
6. Jovenshire (1W, 4L)
Note: Jovenshire either cheated or forgot that he had 1 win because when they revealed scores, he said he has 2 so he participated in a rock-paper-scissors game and eventually avoided punishment despite having the worst score. Lasercorn lost the game so he had to speak like the Hulk in the end.
Trivia
This is the first time a punishment has been to prank call a local GameStop
It is also the first time a tie-break game has been used

Although in this case it was only used due to a calculation error.

The GameStop prank call was voted by viewers as the 2nd funniest moment in the first year of Smosh Games in Top 5 Funniest Moments of Smosh Games