Wiki Targeted (Entertainment)
Play Sound
AMAZING NEW POKEMON! is the 65th installment of the Lunchtime with Smosh.
The video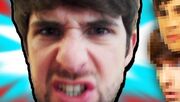 Pre-video
Ian states in the car that "dwarf" is a perfectly accepted verb. The animation plays.
Driving to lunch
Ian is in the passenger seat, and in a barely noticeable altered voice he welcomes the viewers to Lunchtime with Smosh. He says they are trying out a new invisibility feature on Smosh, Anthony being "invisible" in the driver's seat. Ian then fakes Anthony's voice, and moves the camera and Anthony appears in the driver's seat, staring at Ian, who is feigning being elated that the "invisibility cloak" worked. Anthony quips that one day Ian will murder him and simply claim that Anthony is invisible.
The two men then document their drive through the "countryside," which includes a palm tree. Ian chants "countryside, countryside" as they mosey through the area. During this time, Anthony tells viewers they are going to get hot dogs from a German place.  The conversation then transitions to the German accent.
Trivia
2 years later, Ian and Anthony would make a video with a character that uses on the German accent used in the video.
Screenshots