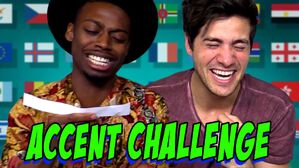 ACCENT CHALLENGE
is the 210th episode of
Smosh is Bored
. Released March 30, 2015, the episode features Squad members
Keith
and
Noah
, as well as
Ian
and
Anthony
.
Video Description
*video description is taken as is from the description box below the video
There are so many accents around the world and we want to speak in all of them. We decided to play a little game where we're given a random accent and have to say things in that voice. Who's skills are the best?
Summary
(incomplete)
Pre-video
Ian is speaking in an accent in a very loud, belligerent voice. Anthony is convulsed in laughter as Noah and Keith laugh somewhat politely, but still amused. The title and music begin.
Introduction
Ian introduces the video, stating what they are playing. Anthony mouths some of the words that Ian says and then he begins speaking, introducing two fancy bowls, one filled with papers that have accents written on them and the other filled with phrases, one which will be picked at random to be said with the random accent. Anthony makes Ian go first.
Community content is available under
CC-BY-SA
unless otherwise noted.