Wiki Targeted (Entertainment)
Play Sound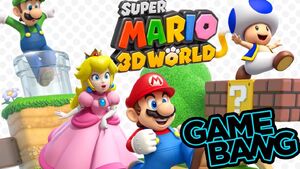 3D Mario Bang is the sixty-fourth installment of the Smosh Games series Smosh Game Bang.
It was uploaded on 13th December 2013 on both smosh.com and YouTube.
Synopsis
The Smosh Games crew play the new Super Mario game for the Wii U: Super Mario 3D World.
Punishment
The bottom two players would have to eat 3 donuts in 30 seconds.
Games
1st=3 points, 2nd=2 points, 3rd=1 point, 4th=0 points
Note: Players are listed below in seat order from right to left (due to the turn order moving anti-clockwise)
Round 1
Anthony vs Jovenshire vs Sohinki vs Lasercorn
Anthony (Peach)
Sohinki (Mario)
Lasercorn (Toad)
Jovenshire (Luigi)
Round 2
Jovenshire vs Sohinki vs Lasercorn vs Ian
Lasercorn (Toad)
Sohinki (Mario)
Ian (Rosalina)
Jovenshire (Luigi)
Round 3
Sohinki vs Lasercorn vs Ian vs Mari
Lasercorn (Toad)
Ian (Rosalina)
Sohinki (Mario)
Mari (Peach)
Round 4
Lasercorn vs Ian vs Mari vs Anthony
Anthony (Mario)
Ian (Rosalina)
Lasercorn (Toad)
Mari (Peach)
Round 5
Ian vs Mari vs Anthony vs Jovenshire
Jovenshire (Luigi)
Anthony (Mario)
Ian (Rosalina)
Mari (Peach)
Round 6
Mari vs Anthony vs Jovenshire vs Sohinki
Sohinki (Rosalina)
Anthony (Mario)
Mari (Peach)
Jovenshire (Luigi)
Final Scores
1st place: Anthony (10 pts)
=2nd place: Sohinki (8 pts)
=2nd place: Lasercorn (8 pts)
4th place: Ian (6 pts)
5th place: Jovenshire (3 pts)
Last place: Mari (1 pt)
Trivia
This is the fourth Game Bang in which the order of turns moved Anti-clockwise.

This time, however, the reason was so Anthony would play harder levels, as he is a pro at Mario games.

Although Jovenshire has gagged in many of the previous eating punishments, this is only the first time he has actually thrown up.
Mari was the only player who never got higher than third place.

While Anthony was the only player who never got lower than second place.

When announcing the punishment, Anthony makes a joke that 3D stands for 3 donuts rather than 3 dimensional.
Mario was the only character to be played in all levels
Ian and Mari were the only players who never got first place