20 Million Subscribers!

Released

April 6, 2015

Length

2:08

Views (approximate):

3,000,000+

Season:

2015

Episode:

15

Characters Featured:

Previous Video:

Next Video: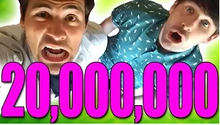 20 Million Subscribers
! is a video uploaded on the
Smosh Channel
. The video has Smosh, Smosh fans and various YouTubers doing the "serious dance" to celebrate the Smosh channel reaching 20 million subscribers on YouTube since their debut over 9 years prior to this video.
Members dance celebrities
Smosh Games (Jovenshire, Sohinki, Lasercorn, Mari, Flitz and Wes)
Harley Morenstein (From Epic Meal Time)
Rooster Teeth.
Annoying Orange & Pear.
Joey Graceffa
Game Grumps (Arin, Suzy, Danny and Barry)
Flula Borg.
Shaytards.
The Warp Zone (Davis, Schroeder, Ryan, Fish, and Odom)
Rhett & Link
Tay Zonday
Jon Jafari (JonTron) and Jacques
Mark Fischbach (Markiplier)
Kellie Whisler and Alex Faciane (From TheNationalDex)
Jirard Khalil (The Completionest)
Trivia
Rhett McLaughlin, Link Neal & Tay Zonday dance while record filmed Song Biscuits Episode 13 of Rhett & Link (You Can't Zoom In On Instagram Song).
Smosh's 2005 Pokemon music video appears during the serious dance.
This is the last subscribers celebration video from Smosh.