Spider-Man: No Way Home Trailer Dropped - The Loop
Play Sound
15 HOUR ENERGY! is a Smosh video uploaded on June 15, 2012.
Brief Synopsis: Adrian and Tony Bone show you the benefits of using 15 HOUR ENERGY, an energy drink proven to keep you awake and energized for a full 15 hours! The drink is now being manufactured by Versos™ Manufacturing and can be purchased at this link
Commercial
Introduction
A tired business man named Jim (Ian) is dozing off at his keyboard when announcer asks, "Are you suffering from a lack of energy?" Jim starts to respond, but the announcer interrupts him, saying, "Have you tried 6 hour energy?" Again, the business man begins to answer, but the announcer asks, "6 hours of energy isn't enough?" Finally, Jim says, "Okay, can you stop cutting me off?" but the announcer shouts, "Then you need 15 Hour Energy!" Jim asks, "Well is it safe?" Suddenly, a hand pops up with a bottle of 15 Hour Energy and forces the man to drink it, and then punches him in the face. Jim exclaims, "Holy balls, this is awesome!" and then goes into a hyperactive state. It then cuts to Adrian and Tony Bone working out, saying that 15 Hour Energy gives you 15 hours of constant pulse-pounding, earth-shattering, penis-crushing energy. It goes back to Jim, after 7 hours have elapsed. He is stamping, typing, and talking at an extremely fast pace. The announcer says, "But 15 Hour Energy isn't just for corporate slaves like that loser. How do you use 15 Hour Energy?"
Mother Testimonial
A mother takes a skull on a tray out of the oven while she talks about how her daughter used to sneak out at night while she was sleeping. "But thanks to 15 hour energy, I never sleep." It then cuts to her with her daughter, stroking her hair while she sleeps, saying, "Thanks 15 Hour Energy! ("15 HOUR PROWLER!")
Gamer Testimonial
A teenager with a headset on (Anthony) says, "I use 15 Hour Energy to level up my night elf." He then turns around and watches his avatar on the computer as it dances in a bikini. He says, "Just look at her butt, it's so hot. Oh, just look at the pixel shading on her crack..." ("15 HOURS OF SEXY TIME!")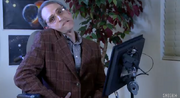 His intel computer says, "It used to take me four hours to type a single sentence. But thanks to 15 Hour Energy..." He then get up out of the wheelchair and knocks it down, and says to the camera, "I don't need that s*** anymore," in his computer's voice. ("15 HOURS OF ROBOT-RAGE!")
Ending
It then goes back to Jim, after 13 hours have elapsed. His keyboard is stained with blood, and he's still typing as fast as before. The announcer tells him that it's been 13 hours since he took 15 hour energy, and asks him how he feels. He answers, "Must keep working must never stop working must always work I love to work!" His boss walks in and tells him he can go home, but the he responds, "NOT RIGHT NOW CHIEF, I'M IN THE FRICKING ZONE!" He then continues typing on his blood-stained keyboard.
The announcer says that, while other energy drinks have 4 whole calories, 15 Hour Energy only has 2, so you won't become fat. Adrian is seen lifting weights and Tony is handed a rock from Stephen Hawking, but fails to hold it and falls. Stephen calls him a pussy in his computer voice.
It then goes back to Jim a final time, and the full 15 hours have passed. The announcer asks him, "How do you feel?" but the business man is unconscious, head on his keyboard, with foam coming out of his mouth, his hands and keyboard covered in blood, and papers sprawled out over his desk. The hand that previously forced him to drink 15 Hour Energy pops up again and pours a whole bottle all over his face.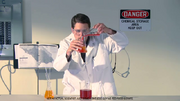 It cuts to a science lab, where a scientist is pouring different colored chemicals into one flask. The announcer says, "15 Hour Energy was developed through years of scientific research," and describes it with these three things:
All Natural
Contains 50,000% of Your Daily Dose of Vitamin B6
Benzoylmethylecgonine Cocaine

A homeless man then is seen drinking 15 Hour Energy, saying, "Oh yeah, that's the stuff."
The last scene of the video is of a bottle of 15 Hour energy spinning on a turn table, with the following words around it:
15-HOUR ENERGY
BECAUSE TAKING CARE OF YOURSELF WITH A PROPER DIET AND SLEEP IS F***ING STUPID!
Script
Gallery
15 HOUR ENERGY!/Gallery
Trivia/Goofs
In real life, 6 Hour Energy is called 6 Hour Power, although there is a 5 Hour Energy.

Three

bottles of 5 Hour Energy would make a 15-Hour Energy, although 15-Hour Energy cuts the calories in half, so one doesn't become a fat f**k.

This is the first fake commercial video that doesn't have an "Order Information" scene, with the bottom paragraph written by a celebrity but having no relation to the product.
Adrian is seen again since his last appearance in MAKEUP FOR MEN, even though he was killed off in his first appearance, MEETING MY IDENTICAL TWIN!
In Ian's office, you can see a photo of Sean Connery, who was also used as the father of Billy and Anthony from the PARENTS SUCK! lyric: "No more mommy, no more dad!"

The calendar in Jim's office is dated "April 2009."
The Associate of the Year certificate belongs to "Patrick Egan," which is a person in Smosh's crew. He plays the scientist in this video

In the scene where the scientist is creating 15 Hour Energy with chemicals, this message is at the bottom of the screen: NOT AN ACTUAL SCIENTIST. JUST SOME HOMELESS GUY WE FED FOOD SCRAPS.
The boulder that Stephen Hawking throws on Tony Bone is the same boulder that crushed lan's arm in I SUCK AT DRAW SOMETHING!. The boulder was also seen in PARANORMAL EASY BAKE OVEN! and Food Battle 2011 ANNOUNCEMENT!
The stamp that Jim uses says, "REJECTED, BITCH!"
Jim was typing a code while he was typing the whole 13 hours, and before 15 hours was up, his monitor shows a screensaver.
Subscription Ending
"Thanks for subscri...bing... Oh, I need more caffeine."
—{{{2}}}
"Please help... I need caffeine... uhhh... SHUT UP!"
—{{{2}}}
Video
http://www.youtube.com/watch?v=8NHQwz3hq0Y
Smosh Episodes
Season 2005
Pokemon Theme Music Video (deleted) • Power Rangers Theme • Mortal Kombat Theme • The Epic Battle: Jesus vs Cyborg Satan
Season 2006
PREVIEW: Teenage Mutant Ninja Turtles Theme • Teenage Mutant Ninja Turtles Theme • Battleship • Transformers Theme • Smosh Short 1: Dolls • The California Stereotype Experiment • Boxman • Smosh Short 2: Stranded • The Best Car EVER • Food Battle 2006 • That Damn Neighbor • Frankie Rogers is James Bond • How Not to Make a First Impression • How Not to Act on a First Date • Feet For Hands • Boxman's Christmas • New Year's Eve PSA
Season 2007
Three Wishes • Axe Murderer • Easy Step • Sparky Goes to a Club • Spiderman, Spiderman • License Test • April First • Anthony Gets a Haircut • Handshake • Hardcore Max • Food Battle 2007 • Transformers Rap • Three Guys in a Hotel • Quest for the Scooter • The Assassins • Replacement Needed • Reunited? • Male Model • The Haunting • Toy Airplane • Ian's Birthday • Santa is Real!
Season 2008
Cat Soup • Boxman's Girlfriend • Left Handed • There Will Be Pokemon • Smosh Sued for $20 Million (April Fools) • Beef 'n Go • Batman's Cool Internet Video • Teleporting Fat Guy • Food Battle 2008 • Going to the Mountains • Life as Ghosts • Boxman for President • Sex Ed Rocks • Smosh Snatchers • A Merry Gangsta Christmas
Season 2009
Breaking the Habit • Hardcore Max 2 • Ian's First Girlfriend • That Damn Prison Break • Unitarded • LeVar Burton Buys Smosh (April Fools) • Anthony's Death • Anthony's Resurrection • Anthony is Mexican • Grammar Police • I Heart Burgers • A Hairy Situation w/ Billy Mays • A Very Hairy Situation w/ Billy Mays • Washington's First Video Blog • Food Battle 2009 • The Ultimate Shoedown • Bigfoot is Gay • If Movies Were Real • Four Years Foreplay • Twilight: New Moon Deleted Scenes • Mighty Smoshin POWER RANGERS • Kid Craps Himself in Drift Car! • Pizza Zombies! • X-Mas: PORN on Santa's Computer • X-Mas: Osama's First Christmas • X-Mas: Santa Gets Down • Best of Smosh 2009
Season 2010
Charlie the Drunk Guinea Pig • Ian Gets Lucky • Anthony Gets Engaged • HELP! WE'RE FAT! • EDITOR! • CRAZY FATASS! (True Story 1) • Ian Is Pregnant • If Video Games Were Real • Anthony Poses for Playgirl!?! • Smeagol Loves the Precious • Boxman 2.0 • I Love Lou Ferrigno! • Leave It To Bieber • Charlie the Drunk Guinea Pig 2 • 5 Ways to Get a Girl • Lizard Rabies • Super Powers! • My Mom's AMAZING Video! • How Lady Gaga Got Famous • The Famous Cheese Guy • WTF! I'm Old! • Inappropriate Sonic • Arm Wrestling TO THE DEATH • KILLER TEDDY BEAR! • If Cartoons Were Real • Food Battle 2010 • FIRETRUCK! • 2 GUYS 1 BATHROOM • SELLING OUT!? • ★ MY FANNY PACK! ★ • PLAYING WITH GUNS! • THE FUTURE SUCKS! • That Damn Punishment • If Scary Movies Were Real • HALO RUINED MY LIFE! (True Story 2) • EPIC TEENY BATTLE! • HARRY POTTER DELETED SCENES! • Pokemon Theme Song REVENGE • VADER AND ME! • Cute Furry Kittens • TRON: Legacy *LEAKED FOOTAGE* • MY NEW HOT GIRLFRIEND • Best of 2010 Remix
Season 2011
HOW TO HIDE A B0NER IN PUBLIC! • PARANORMAL EASY BAKE OVEN! • *NEW* Smosh Reality TV Show! • I'M NAKED! • HOT ROBOT SLAVE • JUSTIN BIEBER HITS PUBERTY (Never Say Never 2) • If Kids Shows Were Real • AMAZING NEW DRINK! • Charlie the Drunk Guinea Pig 3 • Charlie the Drunk Guinea Pig 3.5 • WORST TWIST ENDINGS EVER! • I KILLED THE TOOTH FAIRY! • MEETING MY IDENTICAL TWIN! • 3D is AWESOME! • I'M A PIRATE (True Story 3) • POKEMON IN REAL LIFE! • OUR VIDEO IDEAS STOLEN! • Runbrella (No. 1 MOTHER'S DAY GIFT!) • If Superheroes Were Real • DRIVING ME CRAZY!!! • REJECTED VIDEOS! • HOW TO DUMP YOUR GIRLFRIEND! • MY MAGICAL TAPEWORM! • POKEMON IN REAL LIFE 2! • MY BATHROOM SECRET • IF THE INTERNET WAS REAL • I'M NOT RACIST!!! • The Harry Potter Pill • MY GRANDPA'S DIRTY SECRET • If Movies Were Real 2 • First Person Shooters Suck! • Best Toy Ever! • Makeup For Men • Star Fox TV Show! • HOW TO COVER UP A MURDER • Food Battle 2011 • The Internet For Dummies • THE DITTO - Movie Trailer • XTREME SLEEPOVER! • POKEMON IN REAL LIFE 3! • THE NEW GHOSTBUSTERS • TEENS IN THE WILD! • REAL VOODOO DOLL! • The Legend of Zelda Rap • The Pokemon Master! • Motion Gaming Sucks! • I'M POSSESSED! • Meat in Your Mouth • If Holidays Were Real • Best of 2011 Remix!
Season 2012
SIRI TRIED TO KILL ME! • HOW TO BE A COP! • REAL DEATH NOTE! • MIME FAIL! • PARENTS SUCK! • I WAS BRAINWASHED! • REJECTED TWILIGHT ZONE EPISODES! • HITCHHIKING DISASTER! • Attention: Facebook Users • POKEMON IN REAL LIFE 4! • I LOST MY HAIR! • HOMELESS MILLIONAIRE! • N1PPLES ON YOUTUBE! • Smosh On The News! • GUYS' GUIDE TO HUGGING GUYS • If Video Games Were Real 2 • STUCK IN A TOILET! • MANSPIDER! • Magic Keyboard! • 7YR OLD DOES TWILIGHT! • I SUCK AT DRAWING SOMETHING! • HOW TO CHEAT ON YOUR GIRLFRIEND! • SMOSH FOUND DEAD • REJECTED MARIO GAMES • 15 HOUR ENERGY! • My Mail Order Bride! • PEN15 CLUB • MY NEW EMO HAIR! • 5,000,000 SUBSCRIBERS! • OISHI WILL KICK YOUR ASS! • LIFE HACKING! • AWESOME NEW ROBOT! • Stupid Movie Sequels • WORST ID PHOTO EVER! • Taken 3 - TRAILER • IPhone 5 REVEALED • FOOD BATTLE 2012 ANNOUNCEMENT! • THAT'S HOT! • DRINK YOUR P!SS • BIGGEST ZIT EVER! • PHOTOSHOP PLASTIC SURGERY • BADASS NEW POWER RANGERS • GAMER GETS TROLL'D! • Food Battle 2012 • Teleporting Fat Guy is BACK! • Ultimate Assassin's Creed 3 Song • Addicted to Honey Boo Boo Child • Wii U Sports is Awesome! • My Pet Pikachu • DUBSTEP COMMERCIALS SUCK! • GIRLFRIENDS IN THE WILD • If TV Shows Were Real • A SMOSHY CHRISTMAS! (Part 1) • A SMOSHY CHRISTMAS! (Part 2) • Best of 2012 REMIX
Season 2013
Disney Star Wars • My Bobblehead is Evil! • Holy Crap! 2 Billion Views! • We're in Super Mario! • That Damn Movie! • Driver's Ed Crap Rap! • Most Violent Game Ever!? • My Stupid Dying Grandpa! • Sexting Gone Wrong! • Life Better-ers! • Banned Airplane Safety Video • Zelda in Real Life! • Worst Online Date Ever • Gas Buster! • If Movies Were Real 3 • Google Glass Sucks! • Sleeping Pill Disaster • Worst Proposals Ever • Amazing New Workout • Good Vs Surprisingly Good • Dixon Cider • We're Stuck Together!!! • What Guys Are Really Thinking • Stop Copying Me! • My Friend's Hot Sister • Japanese Titanic • We Need Friends • Magic Wipes • I Broke My Foot! • The Rarest Pokemon Card! • We Rule High School • I Have Kirby Powers! • Retarded Cats: The Movie • I Have a Secret Son • How to Survive a Burglary • So Many Hickeys! • OUR GENERATION IS DOOMED: The Movie • Scribblenauts in Real Life • My Twerking Addiction • New Pokemon Crossovers! • Stop Miley • Assassin's Creed 4 Rock Anthem • 22 Crazy Vines (That Don't Exist) • Food Battle 2013 • Loki Interview Prank • We Found a Dead Guy! • Longest Staring Contest Ever • My Mutant Rash! • Smosh Vs Zombies • The End of Christmas (Part 1) • The End of Christmas (Part 2) • Best of 2013 Remix
Season 2014
Horny Cellmate • Molester Moon • Guy's Guide to Being Manly • Movies Vs Reality • Pimps of Prom • Jurassic Pokemon • Hide and Seek • Taylor Swift Dumped Me • Flappy Bird Ruined My Life • Creepy Weird Nudist • Pokemon in Real Life 5! • A Real Ouija Board? • Emma Watson Surprise Prank • If Video Games Were Real 3 • How to Be a YouTube Commenter • The Adventure Time Adventure • Movie Reboots Suck • Real Mario Lava Floor! • The Real Party Song • 19 More Crazy Vines (That Don't Exist) • Real Watch Dogs Hacks! • We're Stuck in Slow Motion • Addicted to Selfies • If Apps Were Real • Name Rap or Die • I Can Hear Your Thoughts • Anime Voice Swap • My Bathroom Disaster • My Morning Routine • The Rock Interview Prank • Real Minecraft Vacation • Disney's Star Wars Blind Date • If Bieber Wrote His Songs • If TV Shows Were Real 2 • Autocorrect Fail • iPhone 6 Revealed • Movies on Drugs • Conjoined Challenge • F**k Spoilers! • Your Dumb. I'm Dumber • This Video is Offensive • Backwards Challenge • Guns Suck • The New Slenderman • 6 Ways to Get a Girl • 9 Most Horrible Bosses • Ultimate Fan Suprise Prank • Food Battle 2014 • Top 10 Video Game Dances • Magic iPod • Just Like Link • Christmas Apocalypse (Part 1) • Christmas Apocalypse (Part 2)
Season 2015
Best of 2014 Remix • If Guys Had Girl Problems • Smash Rap • Time Traveling Pickup Master • Murder Party • The Internet in Real Life • If Romantic Movies Were Real • The Truth Behind Emojis • Video Game Items in Real Life • My Hot Online Girlfriend • Apple Watch Sucks • Worst Parents Ever • Sex Turban • Ultimate High School Prank • 20 Million Subscribers! • We're in Super Mario Bros 2! • LEAKED Legend of Zelda NETFLIX TRAILER • Avengers: Age of Ultron LEAKED FOOTAGE • Anthony is Dating a Fan • EVERY BLANK EVER (Trailer) • The Mother's Day Rule • Every Instagram Ever • MAGIC iPAD • If Board Games Were Real • Every Party Ever • CHRIS PRATT INTERVIEW PRANK • THE NEW ANT MAN • Every Game Of Thrones Ever • SMOSH: THE MOVIE (OFFICIAL TRAILER) • Every Dad Ever • BATMAN'S A BITCH • GODS IN REAL LIFE • Every Wrestler Ever • SEXUAL SUN • Camp In A Van • EVERY SNAPCHAT EVER • Hand Bomb • Old People Movie Prank • Every Cat Ever • The Wiener Song (Autotune) • WHO IS THAT GUY?! • Every Break Up Ever • 6 People 1 Donut • TOM CRUISE IS MY ROOMMATE • Every Teacher Ever • We're in Super Mario Bros 3 • Finger Guns • Every Vine Ever • If The Internet Were Real 2 • Epic Trailer Gone Wrong • Every Birthday Ever • Movie Translation Fails • Food Battle X Announcement • If Kanye Were President • Every Walking Dead Ever • HOW TO GET A GIRLFRIEND • Food Battle X Cartoons • THE BAD PARTS OF HEAVEN • Every Halloween Ever • Yelp For People! • If Video Games Were Real 4 • Every Thanksgiving Ever • Montage Machine • 1985 vs 2015 • Food Battle X Trailer • Every Smosh Video Ever • Food Battle X • F**ked Up Christmas Movies • Every Jedi Ever • Netflix Conscience • 21 Things I'd Rather Do Than Smoke • Every Christmas Ever • Naked and Afraid • A Merry Minecraft Christmas! • Every New Years Ever
Season 2016
Best of 2015 Remix • Part Timers (Official Trailer) • Douche Board Commercial • Every Dog Ever • If TV Shows Were Real 3 • Addicted to Pranking (Gone Sexual) • Every Football Game Ever • If Adults Acted Like Children • Drake-A-Wish • Every First Date Ever • If Reality Shows Were Real • Climate Control Isn't Real • Every Oscars Ever • Adult Magic School Bus • World's Smallest House • Every Sibling Ever • Keeping Up With the More Kardashians • Human Pokemon Battle • Every Superhero Ever • Hippie Grass Car • Part Timers Season 2 (Official Trailer) • Surprise Fan Prank • Every Driver Ever • If Teens Ruled the World • My Best Friend is a Robot • Every Boyfriend Ever • Kiss Currency • Worst Army Ever • Every Mom Ever • Super Virgin Squad • We're in The Angry Birds Movie • Every Prom Ever • LIE DETECTOR • ESCAPE ROOM CHALLENGE w/ My Mom • Every Girlfriend Ever • Backwards Curse Words • Chips Ghost • Every Starbucks Ever • One Letter Off Superheroes • Emo Hair • Every American Ever • Batman's a Bitch Returns • Dick Pic Curse • Every Funeral Ever • If Disney Princesses Were Real • Office Fight • Every Super Villain Ever • Video Game Items in Real Life 2 • Breaking News: Brad is Missing • Every Ex Ever • We're in Super Mario Maker! • Ghosts vs Humans • Every High School Ever • Batman Sucks Forever • Every Family Vacation Ever • Phone Nicknames Hurt • Worst Heist Ever • Every Election Ever • I Have a Micropenis • If Video Games Were Real 5 • 1976 vs 2016 • Every Bird Ever • ASTRONAUT GOOGLE SEARCH FAIL • What If Donald Trump... • If Movies Were Real 4 • Every Horror Movie Ever • How to Make Easy Money • What If The Walking Dead... • Man Trapped in Room For 20 Years • Every Hipster Ever • How To Be an Awesome Hacker • What If Star Wars... • Business Boy Emoji Curse • Every Shopper Ever • Guys Guide to Football • What If Your iPhone Were... • Masterchef Millennials • Naval Cannon • WHAT IF THE NEW SMOSH MOVIE... • LAW AND ORDER: ZOMBIE COP DIVISION (ZCD) • What If Santa Were... • this had to happen • Food Battle 2016
Season 2017
Every Gym Ever • BEST of 2016 REMIX • WHAT IF MARIO...? • THE F*CKBOY SONG • EVERY DATING APP EVER • HORRIBLE PRANK RUINS MAN'S LIFE • WHAT IF TAYLOR SWIFT...? • IF PEOPLE WERE CARS • EVERY BATHROOM EVER • SOCIAL MEDIA DIVORCE COURT • EVERY BEST FRIEND EVER • ONE LETTER OFF TV SHOWS • EVERY CRUSH EVER • TOTALLY ACCURATE WRESTLING MATCH • HOW TO BE THE BEST GAMER IN THE WORLD • IPhone 8C ANNOUNCEMENT • EVERY ROOMMATE EVER • IF APPS WERE REAL • EVERY SLEEPOVER EVER • 1997 VS 2017 • EVERY GIRLS NIGHT OUT EVER • AM I A BAD BOYFRIEND? • EVERY GUYS NIGHT OUT EVER • MOVIES ON DRUGS 2 (La La Land, Pinocchio, Taken, & More) • WE'RE STUCK IN FAN FICTION! • EVERY ELEMENTARY SCHOOL EVER • IF PEOPLE ACTED LIKE THEY DO ONLINE • WOKE KIDS GAMES • EVERY ROMANTIC COMEDY EVER • THE VLOG VIRUS (w/ Ryan Higa and Rhett & Link) • ONE LETTER OFF VIDEO GAMES • WHAT IF ABRAHAM LINCOLN...? • DEEP CELEBRITY SONG (Music Video) • EVERY TEST EVER • Another Youtube Apology Video • WHAT IF DISNEY MOVIES... • REJECTED ZELDA GAMES • EVERY DENTIST EVER • ONE LETTER OFF MOVIES • WHAT IF YOUR DAD... • IF PEOPLE ACTED LIKE POLITICIANS • IF BOARD GAMES WERE REAL 2 • Anthony is Leaving Smosh • The TRUTH about Smosh. • THE SECRET TO INSTAGRAM COMEDY • WHAT IF HARRY POTTER... • IF REALITY SHOWS WERE REAL 2 • WHAT IF MILLENNIALS... • $1 Taco Vs. $1,000,000 Taco • EVERY APPLE STORE EVER • 2007 VS 2017 • WHAT IF YOUTUBERS... • NEWS WITHOUT TRUMP • EVERY SUMMER CAMP EVER • What's going on with Smosh?! • EVERY POOL PARTY EVER • Our Coffee Machine is Racist. • EVERY RECESS EVER • IF DISNEY MOVIES WERE REAL • EVERY ACTION MOVIE EVER • ONE LETTER OFF BOOKS • BEST ECLIPSE VIDEO EVER (deleting never) • TIME TRAVELER TRIES TO SAVE WORLD • EVERY FIRST DAY OF SCHOOL EVER • FIRST LOOK: $50,000 iPhone 8 Diamond Edition • EVERY SEX-ED EVER • ONE LETTER OFF KIDS SHOWS • EVERY SEX-ED EVER • HOW TO NOT PISS OFF ASIAN PEOPLE • EVERY HIGH SCHOOL CLIQUE EVER • IF KIDS SHOWS WERE REAL 2 • THE MOST HATED PEOPLE IN THE WORLD! • EVERY FANTASY FOOTBALL LEAGUE EVER • SUPER MARIO ODYSSEY AS A HORROR MOVIE • EVERY MCDONALD'S EVER • EVERY HAUNTED HOUSE EVER • 31 LAST MINUTE DIY HALLOWEEN COSTUMES • EVERY COSTUME PARTY EVER • The Kiss. • Kids on Bikes • WHAT IF SMOKING RUINED ICONIC MOVIE MOMENTS... • Taking Smosh in a new direction. • MatPat, Gabbie Hanna, and Ricky Dillon - You Posted That? • The Justice League is SAD • EVERY FAMILY GATHERING EVER • CaptainSparklez, Mini Ladd, and OMGItsFirefoxx - You Posted That? • EVERY STAR WARS FAN EVER • h3h3, Jacksfilms, and Elliott Morgan - You Posted That? • EVERY GRANDPARENT EVER • SOURCEFED RETURNS! - You Posted That? • EVERY HOLIDAY SEASON EVER • ANTI SANTA PROTEST GOES BAD • EVERY SANTA EVER • 2016 vs 2017 • THE BEST AND WORST OF 2017
Season 2018
Thank You To The Viewers! (Music Video) • EVERY PUBERTY EVER • Rejected SMOSH Characters • EVERY AIRPORT EVER • EVERY GAME STORE EVER • If People Were Anime! • EVERY ELEVATOR EVER • How To Stand Up To A Bully! • EVERY FOREVER 21 EVER • RAPPERS IN 2018 • EVERY VALENTINE'S DAY EVER • WEIRD GUY MAKES A POP-TART GIRLFRIEND • EVERY P.E. CLASS EVER • EVERY MIDDLE SCHOOL EVER • THE MOST ANNOYING KID IN SCHOOL • EVERY WALMART EVER • HOW TO NOT PISS OFF WOMEN • EVERY TARGET EVER • INTERVIEW DISASTER w/ JOHN BOYEGA, CHARLIE DAY, AND SCOTT EASTWOOD • EVERY AMAZON EVER • EVERY SPRING BREAK EVER • IF MOVIES WERE REAL 5 • EVERY FART EVER • EVERY YOUTUBER EVER • IF MOVIES WERE GENDER SWAPPED • EVERY LATE NIGHT TALK SHOW EVER • Markiplier, Steven Suptic, and Lily Marston - You Posted That? • EVERY REALITY SHOW EVER • TANA MONGEAU ARRESTED (w/ Jon Cozart & Lisa Schwartz) • EVERY GAME SHOW EVER • SAFIYA NYGAARD ON YOU POSTED THAT! (w/ Olan Rogers & Joe Bereta) • EVERY HOTEL EVER • Ned from The Try Guys, Shayne Topp, and Khadi Don - You Posted That? • EVERY MUSEUM EVER • VIDEO GAME ITEMS IN REAL LIFE 3 • EVERY CHURCH EVER • APPS WE WISH WERE REAL • EVERY SUBWAY EVER • If People Were Anime 2! • EVERY TACO BELL EVER • HIGH SCHOOL IN 2008 VS 2018 • EVERY GRADUATION EVER • CHRIS PRATT is on our Game Show! • 1998 VS 2018 • EVERY GAMER EVER • WHEN MEMES DIE • EVERY MOVIE THEATER EVER • COMMERCIALS IN REAL LIFE • EVERY INSTAGRAM CELEBRITY EVER • FORTNITE IN REAL LIFE • EVERY SUMMER JOB EVER • HUMAN POKÉMON BATTLE 2 • EVERY FACEBOOK EVER • HOW TO BE FAMOUS ON YOUTUBE • EVERY CAMPING TRIP EVER • IF FAIRY TALES WERE MODERN DAY • EVERY BUZZFEED EVER • IF TV SHOWS WERE ANIME • EVERY WEDDING EVER • 2008 YOUTUBE VS 2018 YOUTUBE • EVERY URBAN OUTFITTERS EVER • HIGH SCHOOL FIGHT CAUGHT ON CAMERA • EVERY HAIRCUT EVER • KSI vs LOGAN PAUL (Parody) • EVERY HIGH SCHOOL PARTY EVER • MOST ANNOYING PROM DATE EVER • EVERY MAKEUP TUTORIAL EVER • IF VIDEO GAMES WERE REAL 6 • EVERY 7-ELEVEN EVER • THE TRENDIEST VIDEO ON YOUTUBE (YouTube Detention) • EVERY ANIME EVER • SCHOOL vs WORK • $10 QUEER EYE TRANSFORMATION (w/ Jon Cozart) • EVERY CLASSROOM EVER (w/ Kevin Hart & Tiffany Haddish) • EVERY UBER EVER • PARENTS IN 1998 vs. PARENTS IN 2018 • EVERY HOMECOMING EVER • The Mind of Shane Dawson • EVERY BABYSITTER EVER • IF SCARY MOVIES WERE REAL 3 • EVERY TRICK-OR-TREAT EVER • IF APPS WERE REAL 3 • EVERY AUTUMN EVER • IF FRIENDS WERE REALLY HONEST • EVERY HIGH SCHOOL RELATIONSHIP EVER • Smosh is Homeless • GUY FLAWLESS (Dude Perfect Parody) • EVERY HARRY POTTER EVER • EVERY BLACK FRIDAY EVER • WHY ARE PEOPLE ADDICTED TO TIK TOK • EVERY AIRPLANE EVER • WORST COMMERCIAL EVER • IF PEOPLE ACTED LIKE YOUTUBERS • BEST OF SMOSH 2018
Season 2019
EVERY MEME EVER • THIS CONSPIRACY THEORY IS DUMB • IF YOU HAD ONE WISH... • TEENS VS 20s • EVERY FOOD DELIVERY EVER • Something's Coming... • The rumors are true... WE FOUND A HOME! • EVERY PODCAST EVER • 2019: EXPECTATIONS VS REALITY • EVERY WORKOUT EVER • YouTube BANNED These Commercials • EVERY DOMINO'S EVER • GETTING PICKED ON IN 2009 vs. 2019 • EVERY INSTAGRAM STORY EVER • IF MARVEL CHARACTERS WERE REAL • EVERY BURGER KING EVER • HOW TO FLEX • EVERY PERIOD EVER • IF TV SHOWS WERE REAL 4 • EVERY ZODIAC SIGN EVER • ONE LETTER OFF YOUTUBERS • EVERY GAS STATION EVER • How Did This Guy Get A BILLION Views? (MrBeast Parody) • IF TEXTS WERE REAL • EVERY PREGNANCY EVER • The Most Annoying Kid Got Cancelled • EVERY THRIFT STORE EVER • EVERY NETFLIX ORIGINAL EVER • TINDER FOR HOT DOGS • EVERY CONVENTION EVER • WHO WILL SURVIVE THE APOCALYPSE? (Smosh Summer Games Trailer) • THIS ALMOST ENDED SMOSH • EVERY KFC EVER • EVERY ROAD TRIP EVER • DATING IN 1999 vs. 2019 • 10 People Tell Us About Their Worst Breakup • EVERY CHIPOTLE EVER • EVERY HOOKUP EVER • Girls Are Gross (Official Video) • EVERY SCHOOL PICTURE DAY EVER • These YouTubers Are Trying To Cancel Me (YouTube Detention) • EVERY HANGOVER EVER • EVERY COUPLE EVER • Every Hot Topic Ever • Courtney Makes Ian & Damien Go To Therapy • Every Spa Ever • Every College Party Ever • Most Annoying Kid Lives In A Haunted House For 24 Hours • Every Sephora Ever • Every Coffee Shop Ever • Every Halloween Store Ever • Good Mythical Morning - You Posted That? • If Movies Were Real 6 • The Little Mermaid SNAPPED - One Letter Off Disney Movies • Exposing Our Cringey Tweets - You Posted That? • Every Denny's Ever • Every Disney Princess Ever • The Vlog Squad - You Posted That? • Thanksgiving vs. Friendsgiving • Every Substitute Teacher Ever • Kim Possible vs. So Random! - You Posted That? • Every Sick Day Ever • 90's Commercials for 00's Products • The LaMace Family *NEW OFFICIAL HOUSE TOUR* • The Truth About Tik Tok Eboys • Literally No One:
Upcoming Season
Season 2020