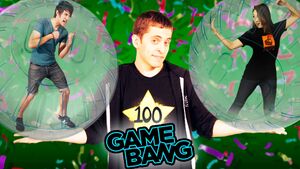 100th EPISODE SPECIAL - HAMSTER KATAMARI is (as the title suggests) the 100th installment of the Smosh Games series Smosh Game Bang.
It was uploaded on 22nd August 2014 on both smosh.com and YouTube.
Synopsis
The Smosh Games crew battle in a game created by them with hamster balls in teams of three. The rules were that one person was to get inside the ball and others were to push the ball to throw the enemy's ball out of the battle circle. After the first round the rules were changed so teammates cannot push their team ball, they have to push the enemy ball instead.
Punishment
Losing team is going to get inside the ball together and be pushed from the hill.
Rounds
Note: Winning team had to win 3 rounds out of 5 but as the first round ended in draw, they started counting from round two.
Round 1 (Mari and Sohinki in ball)
Round 2 (Ian and Lasercorn in ball)
Round 3 (Jovenshire and Anthony in ball)
Round 4 (Mari and Sohinki in ball)
Final Score
Team Socornthany (Sohinki, Lasercorn, Anthony) - 3 wins
Team Marianshire (Mari, Ian, Jovenshire) - 0 wins
Trivia
Coincidentally, the two teams consisted of the top three players and bottom three players respectively in Smosh Game Bang history, so far. As one would expect, team with the best players won the challenge. It is the second episode where this has happened (the first being Protect the Flag).

Another thing to note is that in both episodes, Mari, Ian and Jovenshire's team lost ALL of their matches while Anthony, Lasercorn and Sohinki's team won all of theirs.

It was the second time someone from the losing team avoided the punishment as Mari was injured in the last round and Ian with Jovenshire decided to not include her in punishment.

Coincidentally both times were Mari
This is also the first time a player has been genuinely injured in a Game Bang

For the first time in Smosh Game Bang history, the crew plays a game that is entirely of their own invention, not any existing video, card, etc. game.
Community content is available under
CC-BY-SA
unless otherwise noted.